Maria SAKKARI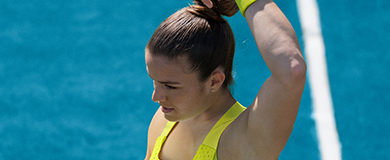 Country : Greece
DATE OF BIRTH : 25/07/1995
PLACE OF BIRTH : Athens
HEIGHT : 1.72m
RESIDENCE : Athens, Greece
TURNED PRO : 2014
BEST RANKING : 19
GAME : Right handed, two-handed backhand
Items 1 to 31 of 31 total
-44%

-44%

-45%

-35%

-40%

-20%

-35%

-33%

-37%

-30%

-20%

34/36
37/39
40/42
46/48
43/45

-30%

-20%

-30%

-30%

-20%

-30%

-30%

-41%

-25%

-25%

-20%

-20%

-25%

-25%

-29%

-45%

-30%

-30%
-42%

-33%
Items 1 to 31 of 31 total
Maria Sakkari: the rising power
Greek tennis today is experiencing a flamboyant era. If Tsitsipas is already considered the best player in his country's history, the young Maria Sakkari, with her extraordinary physique and power, is the greatest hope that Greek women's tennis has ever known. Professional since 2011, she is the revelation of the year 2021, season in which she reaches the semifinals at Roland Garros and the US Open. Here you will find all the material that led the Greek talent to enter the Top 5 of women's tennis.
Wilson Sakkari: ultra player, ultra power
Power, power and more power, that's how you could sum up the impressive game of the young Greek. With her entire technical range and from all corners of the court, she is able to produce balls heavy enough to neutralize all of her opponents and take the game to her.
In addition to her exceptional physical qualities, the secret to her explosive shots lies in her racquet. Designed to offer maximum power on every ball, the Wilson Ultra is a favorite of all offensive players who, like the Greek player, like to dominate the game from the baseline with heavy, crisp shots.
You'll find the Wilson Ultra line on our site in a variety of weights and sizes so that all players can enjoy the power, comfort and stability benefits of the Sakkari racquet.
adidas Sakkari: Elegance and modernity to dress the female hope of an entire country
adidas, the German brand with the three stripes, has been associated with the Greek champion since the beginning of the year 2020 and has accompanied her in her exceptional ascent into the world's Top 5. Find on Tennispro the adidas Sakkari clothes to shine like her with elegance and modernity on the court. You can also find on our website the adidas shoes adopted by Maria to dominate the court with support and comfort: the famous adidas Barricade.