Naomi OSAKA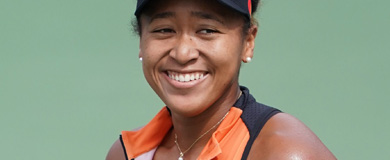 Country : Japan
Date of birth : October 16th 1997
Place of birth : Osaka (Japan)
Height : 1m80
Weight : 69 kg
Residence : Boca-raton (USA)
Turned pro : 2013
Best raking : 1
Game : right-handed, two-handed backhand
Items 1 to 15 of 15 total
-20%

-30%
Items 1 to 15 of 15 total
Naomi Osaka: the Japanese empress of the tennis world
Coming straight from the land of the rising sun, Naomi Osaka illuminates the world of women's tennis with her talent and humility. The first Japanese player to win a Grand Slam tournament and reach the number one position in the world, the Osaka native has quickly become a symbol of her country. Winner of 4 Grand Slam titles, you will find here all the material that led the Japanese idol to become one of the best players in history.
Yonex Osaka: a 100% Japanese combination of power and punch
On the court, Naomi Osaka is adored for her ultra-powerful and offensive game, especially on her forehands and serves with which she can reach impressive speeds. This aggressive and conquering style of play is in contrast to her off-court personality, which is known to be candid and introverted. While her exceptional talent and conditioning allow her to generate so much punch on every ball, the secret to her ultra-aggressive game lies in her racquet.
Designed for players looking to develop powerful balls with comfort and control, the Yonex Ezone line provides unique performance thanks to the craftsmanship of the Yonex Ezone racquet, which is made in Japan. You'll find the Yonex Ezone line on our site in a variety of weights and sizes so that all players can enjoy the benefits of power, control and comfort that the Osaka racquet offers.
Nike Osaka: stylish outfits for a fashion icon
There is no doubt that Naomi Osaka is one of the most influential athletes in the world. She is admired and followed by many for her look and style, both on and off the court. Nike, the leading brand in tennis apparel and footwear, takes special and exclusive care of the collections dedicated to the Japanese player. Clothes as shoes, Naomi is always very involved with Nike to be always at the forefront of fashion with her tennis clothes.
Find on Tennispro the Nike Osaka clothes, which will distinguish you from all the players by your look and your style always 100% fashion. Also choose on our site for the tennis shoes Nike Air Zoom GP Turbo, her favorite pair that provides comfort, dynamism and support.