Rafael NADAL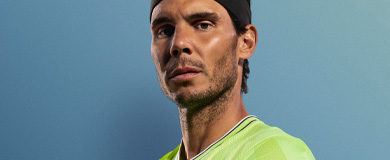 Country : Spain
Date of birth : June 3rd 1986
Place of birth : Manacor (Spain)
Height : 1m85
Weight : 85 kg
Residence : Manacor (Espagne)
Turned pro : 2001
Best ranking : 1
Game : left-handed, two-handed backhand
Items 1 to 65 of 65 total

-35%

-35%

-34%

-35%

-37%

-35%

-37%

-35%

-35%

-35%

-35%

-35%

-35%

-35%

-38%

-35%

-36%

-35%

-37%

-35%

-35%

-35%

-20%

-20%

-20%

-31%

-36%

-24%

-20%

-35%

-35%

-35%

-35%

-34%

-42%

-46%

-35%

-40%

-46%

-35%

-35%

-35%

-35%

-35%

-35%

-35%

-35%

-35%

-40%

-35%

-35%

-35%

-39%

-35%

-35%

-36%

-45%

-40%
Items 1 to 65 of 65 total
Rafael Nadal : The clay court legend
Discover at Tennispro the world of the great Spanish tennis champion Rafael Nadal. Winner of 21 Grand Slam titles, you will find here all the gear that led Nadal to make tennis history.
Nike Nadal: clothing and shoes that became tennis icons
Nike has become the reference brand in tennis. With the brand with the comma by his side, Nadal became the most successful player in history at 35 years old. His Nike outfits have seen him win the French Open 13 times, the Australian Open twice and many other titles, especially during the clay court season.
Find on Tennispro the clothing and shoes of Nadal, the Nike Zoom Vapor Cage, which will ensure an excellent support on all surfaces. You will find on Tennispro everything you need to put yourself in the shoes of your favorite player.
Babolat Nadal: innovation and technology for a champion
The French brand Babolat has made a name for itself in the world of tennis by developing a racquet and a tennis string made to promote the game of Rafael Nadal. You will find on our website the mythical Pure Aero Rafa, in several weights and sizes, so that all players can enjoy the benefits in spin and power that Nadal's racquet offers.
He is best known for his forehand stroke, but it's also thanks to the Babolat RPM Blast string pattern that follows Nadal wherever he goes. Find it to promote spin on each of your shots thanks to its octagonal structure.
You can also find Babolat Nadal tennis bags and the accessories he uses on the circuit on Tennispro. You will be just as well equipped as your favorite player during your next sessions on the tennis court, where you'll be able to win many matches in a row.