Daniil MEDVEDEV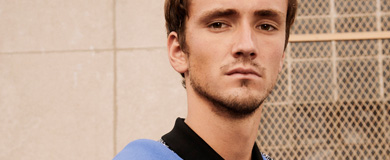 Country : Russia
Date of birth : February 11th 1996
Place of birth : Moscow (Russie)
Height : 1m98
Weight : 83 kg
Residence : Monte-Carlo (Monaco)
Turned pro : 2014
Best ATP ranking : 1
Game : right-handed, two-handed backhand
Items 1 to 36 of 36 total
-35%

-35%

-35%

-35%

-35%

-40%

-35%

-40%

-35%

-35%

-35%

-35%

-20%

-20%

-20%

-35%

-35%

-35%

-35%

-35%

-35%

-35%

-35%

-35%

-23%

-35%

-35%

-35%

-35%

-35%

Items 1 to 36 of 36 total
Daniil Medvedev: a bear who overturns world tennis
The name "Medvedev" comes from the word "Medved", which means bear in Russian. An animal that corresponds perfectly to Daniil Medvedev's state of mind. He was able to shake up the Big 4 and become one of the best tennis players today. Thanks to his unique game and technique, a mix of power, precision and efficiency, he has managed to be number 1 in the world in 2022.
Winner of a Grand Slam title at the 2021 US Open, you will find on Tennispro all the equipment that led the Russian to become a world tennis great.
Medvedev Tecnifibre : a unique racquet for an inimitable player
Perfect balance between power and control, the French brand Tecnifibre has developed for the Russian player the T-Fight range of tennis racquets. It allows Medvedev to dictate his game on the court like a steamroller.
The T-Fight offers him the depth, pace and precision that, both on the forehand and backhand, demolish all his opponents' attacks. Find on Tennispro the range of Tecnifibre T-Fight racquets, in several weights and sizes, so that all players can enjoy the benefits of power, control and stability that Daniil Medvedev's racquet offers.
Also check out the tennis string used by the world's number 2 player, Tecnifibre's Razor Code, a benchmark for spin and durability among professionals and competitors.
Medvedev Lacoste: enjoying tennis with elegance
Known to all fans of the little yellow ball and polo shirts, Lacoste has marked the history of tennis and continues to write it alongside Daniil Medvedev. The Russian champion embodies the values of the crocodile brand: sporting elegance, fair play and tenacity. Find on Tennispro the Lacoste Medvedev clothes to shine with class on the court while showing your interest for the Russian world number 2.